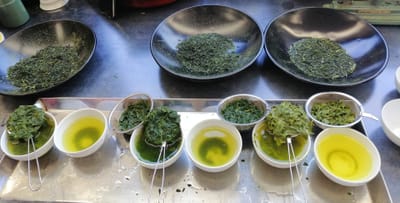 In the
tea leaves inspection workshop
, we will teach you how to tell the differences between low and high quality tea. This course includes analyzing leaves, colors and smells of different types of Japanese tea.
In the
brewing workshop
, you will learn how to prepare and serve tea without damaging the leaves, so you can preserve all its good properties and flavors.
Takanobu Nakao will be your instructor. He owns a
Japanese Tea Instructor certification
. Mr. Nakao is really passionate about Japanese tea and wants to share his knowledge with people from all over the world.
You do not need any previous experiences or skills to participate in these workshops, they are open to everyone. Both courses last one to two hours. The tea leaves inspection workshop costs ¥800 per person, and the brewing workshop cost ¥1,000 per person and includes tasting of 3 varieties of tea (sensha, gyokuro, matcha). You can make a reservation or ask any questions by sending an email to
info@nakaoen.com