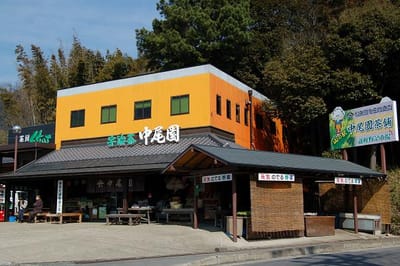 The Nakaoen tea store has a long history and is one of the oldest in Wazuka. It was established in the 6th year of the Meiji period (1873). Six generations of the Nakao family have been running this shop and a tea farm in Wazuka, starting with Nakao Rokuzaemon, followed by Rokuzaemon II, Rokuzaemon III, Rokuzaemon IV, Masayoshi, and the current head of the shop, Mr. Nakao Takanobu, to be passed down to his children.
Almost every family in Wazuka and the surrounding region of Uji has a long history of rice or tea farming, and most of them are related with each other and to the tea dynasties in the neighboring prefectures. Young generations grow up surrounded by farming, processing and trading routine, drinking superb tea every day and gaining deep knowledge about every aspect of the tea business. Tea culture is a big part of everyday life in Wazuka. Nakao family is no exception. Before establishing the tea store, the previous generations have been living on tea farming since the very start of tea cultivation in the Kyoto Uji region.
In our day Nakaoen sells fine teas retail and wholesale, is present on Rakuten and Amazon, has international customers, owns a tea estate located in two walking minutes from the shop and a tea processing factory. It is in touch with all local farmers, which counts not only for tea. Every morning the farmers from Wazuka bring fresh vegetables and fruits, herbs and home-made pickles to the shop, where most of it gets sold within one working day. Many local suppliers visit Nakaoen every day. They take a seat an the antique table made of sakura wood and enjoy a small talk with the owner, Mr. Nakao, a certified Japanese tea instructor, is brewing tea for the guests. The shop is open every day from 8AM to 6PM. Take a chance to visit the shop when you come you to Japan.